News
Date added: 04/05/2017

Champagne Glitter Card

We have added a lovely Champagne colour to our ranges of Textured Glitter Card and Glitter Paper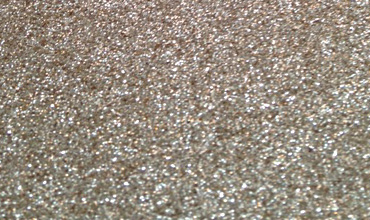 Date added: 04/04/2017

NEW - Laser Cut Shapes

Just arrived, some stunning laser cut shapes from Artoz. Perfect for Wedding Stationery. To see the full collection click on the link below:

http://www.pdacardandcraft.co.uk/craft-materials/embellishments-papers-and-trimmings/paper-embellishments/laser-cut-shapes.html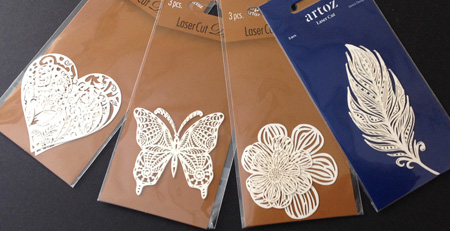 Date added: 23/03/2017

NEW Centura Colours, including ROSE GOLD

We have expanded the Centura Pearlescent card range with 5 new colours:

Baby Blue

Baby Pink

Caramel

Cherry

Rose Gold

Available in uncreased card, creased card blanks, pocketfolds and wallets......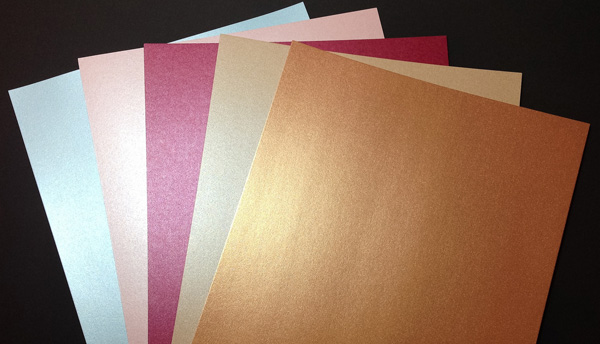 Date added: 22/03/2017

New Handmade Artoz Papers - Just Arrived

The latest Artoz handmade papers have just arrived, to see our full range click on the link below.

http://www.pdacardandcraft.co.uk/craft-materials/decorative-papers-paper-packs/decorative-papers/artoz-handmade-designer-papers.html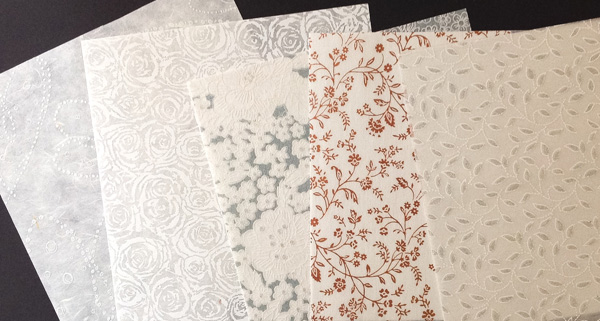 Date added: 21/03/2017

Curious Nude back in stock

After some time, the paper mill has now made more stock, the Curious Nude card and paper is now back live on the site in all categories.

Date added: 13/02/2017

Kraft Natural 280gsm discontinued

This was originally a replacement for the Cairn Eco Kraft, but as supplies are now ongoing of the Eco Kraft and we can no longer get the Natural in 280gsm it has been discontinued. There is a 350gm Kraft Natural still.
Date added: 01/02/2017

New Swatches

We are now making new swatches of our colours, there are four in total standard-swatches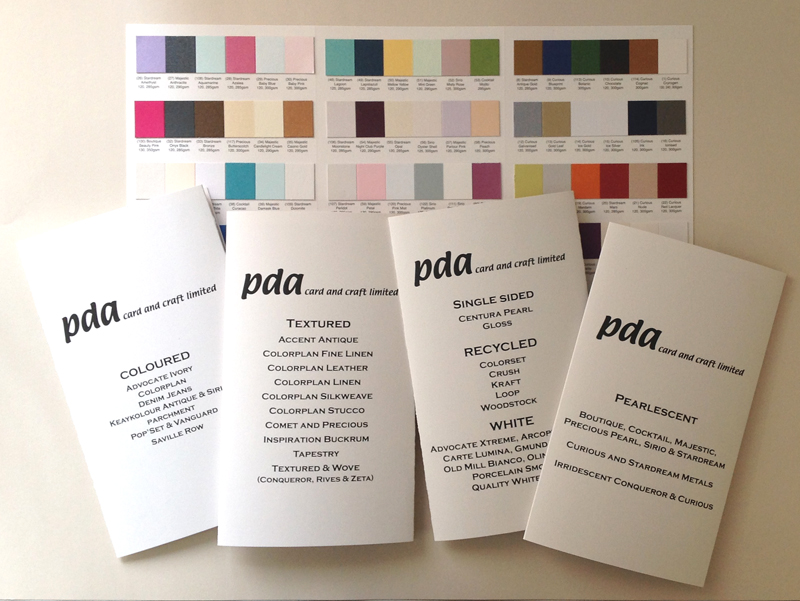 Date added: 20/12/2016

Duplex Cards

We now have the capability of gluing two cards together to make duplex cards. We have made the first ones live for the Curious cards in 600gsm A4 and 420gsm any size. You have the option of having different colours on each side Bespoke Curious Pearlescent Duplex 600gsm

After we have tested other card and paper combinations, we will make them live on the site. ie Curious wil be available in 420gsm and you will be able to choose practically any size. The next ones to go live before the new year will be Colorplan, Tapestry, Stardream and Popset, more to follow.

Subject to testing we should be able to make 240gsm ready to make, and hand made envelopes using different combinations as well, fingers crossed!
Date added: 14/12/2016

Christmas Deliveries

We are sending parcels, up to and including Thursday 22nd for delivery up to 23rd December. And then from December 28th, apart from the Bank Holiday 2nd January, parcels will be going out each day.
Date added: 23/11/2016

Three new pocketfold shapes

Available in all of our cards. One is an A6 double pocket and the other two are in the 205x110mm size.