News
Date added: 16/02/2018

Two new Boarding Pass Wallets

We have had a lot of requests for us to start making Boarding Pass Wallets, so we have had two dies made, one measures A6 once folded, and the other DL. They can be found in the Wallet section

Card Wallets
Date added: 13/12/2017

Christmas Deliveries

We are sending parcels, up to and including Thursday 21st for delivery up to 22nd December. And then from December 27th, apart from the Bank Holiday 1st January, parcels will be going out each day.
Date added: 02/12/2017

New Diagonal Ready to Make and Handmade Envelopes + Liners

We have had many requests for diagonal flap ready to make and hand made envelopes. So we have started making four sizes to begin with, 130x130, 150x150, 133x184 and C6. We have also created blocks to make envelope liners for these as well.

Three of the diagonal liners also fit the C6, 133x183mm and 150x150mm standard 100gsm in white and ivory and also the 130gsm wedding envelopes.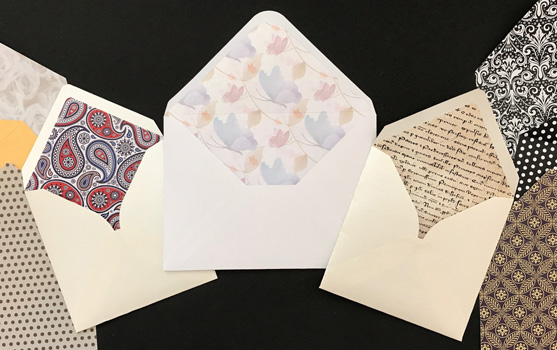 Date added: 15/11/2017

Plike Luxury Card

We are now stocking the Plike 330gsm card in black and white. This card has a tactile soft plastic like finish to it. Plike has an exceptional matt appearance and is excellent for foil printing, letterpress printing and die cutting. A very distinctive card.
Date added: 20/10/2017

New Digital Foil Colours

We're really pleased to be able to offer four new colours to the digital foil range. The new colours are Lavender, Blue/Green, Royal Blue & Purple (like to famous chocolate bar wrapper...) This is in addition to the colours already on offer (Gold, Silver, Copper, Rose Gold, Red & Green)

We're also pleased to be able to offer double sided digital foil printing now, something which previously we couldn't do.

if you'd like more information or to see samples of the colours available, drop us an email or give us a call and we'll be delighted to discuss.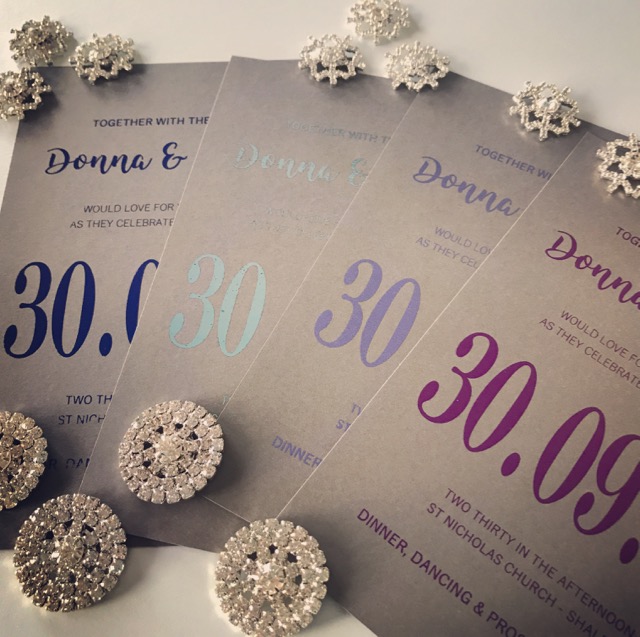 Date added: 02/10/2017

The World's Favourite Colour - The 51st Colorplan Colour

A deep teal is the world's favourite colour, according to a survey carried out by GF Smith who are based in Hull and make the perennially popular Colorplan range.

The global survey supported by Hull City of Culture 2017 has found that this is the hue that humans most prefer.

We now have the world's favourite colour in stock - it's called Colorplan Marrs Green and is the 51st colour in the Colorplan range.

It is available in all weights across all categories.

So why not find out if you agree with the survey and order a sheet (or two) today...
Date added: 25/09/2017

NEW - Textured Glitter Card Colours
Date added: 19/07/2017

New 350gsm deluxe cards

We have 5 colours available in the Sirio Colour range. These cards have a lovely feel to them and are ideal for customers who want a heavier card, particularly if foil printing is required. There is a deep navy blue (Dark Blue), black (Nero), Light Pink (Nude), White and dark grey (Pietra).

sirio-350gsm-uncreased-card.html

White and Nude are also availble as 290gsm on the keaykolor-antique-and-sirio-uncreased-card.html page. Nude is also available as 120gsm paper denim-jeans-and-sirio-paper.html
Date added: 13/07/2017

New Tintoretto cards and papers

Tintoretto Gesso and Crema have a double sided feltmark finish, the card is 300gsm and the paper 140gsm. Available in Gesso (White) and Crema (Cream. These Italian cards and papers are perfect for wedding stationery. 100% acid free and FSC certified.
Date added: 04/05/2017

Champagne Glitter Card

We have added a lovely Champagne colour to our ranges of Textured Glitter Card and Glitter Paper