New Blush card and paper
10/06/2019
We are now stocking the new Colorset 100% recycled Blush card and paper. This is a lovely baby pink shade and is available in all categories.

New Sirio Pearlescents
04/03/2019
We are now stocking two new Sirio Pearl cards in card and paper. The Sirio Rose Gold is a true rose gold, pink shimmering gold and the Sirio Sage is a lovely blue green. Both available in all card and paper categories.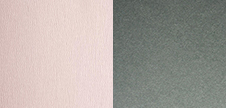 Kaskad back on the site
29/01/2019
We have bought back a number of Kaskad colours along with some new shades. The basic card weighs 225gsm which makes it useful to print on a home printer. We are also making this available in 450gsm. We are currently putting it in all relevant categories.
New Galaxy Card
09/11/2018
We have re-introduced the Galaxy cards which are printed on 240gsm double sided coloured cards. Galaxy Cards
New Favini card
08/11/2018
We have found a lovely smooth double sided card called Favini Burano. Black, Bordeaux, Cobalt Blue, Indian Red, Prussian Blue and Vulcan Grey are 320gsm. Desert and English Green are 250gsm. The black is completely carbon free (rare for a black card). All are highly suitable for digital and foil printing. Favini Burano uncreased card we are in the process of making this card available in all categories. We are also able to duplex this to 600gsm and 500gsm.

New Keaykolour card and paper
28/08/2018
We are now stocking some of the new colours available from Keaykolour. The card is 300gsm and the paper 120gsm. New colours are: Carmine, Coral, Litchen, Matcha Tea, Old Rose, Pastel Pink, Pastel Blue and Steel. Available in all categories, link to the uncreased card is Keaykolour
Also available in 600gsm duplexed. Choose a different or same colour each side. Keaykolour 600gsm